See fabric and sizing info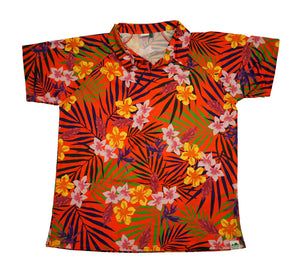 Spruced Athletics
Hibiscus Business Collar
Regular price
$32.50
Sale price
$65.00
Throw this bold shirt on, and everyone in eyesight will know that you're all business...Hibiscus Business!
Meet the Artist
Hibiscus Business is a collaboration with Vicky Chao, a DC-based artist.  Vicky took our inspiration from the Aloha shirts that we used to race in, and ran with it!  Get it?!
---
More from this collection
Fabric Info
All Spruced Athletics shirts are made in America from an imported 100% polyester fabric.  Our fabrics have received a ChitoSanté treatment, meaning they hit all of the buzzwords that you want to hear about your athletic gear: breathable, fast-drying, wicking, anti-bacterial, odor-resistant, durable, soft, and EPA certified, so you can feel good about looking good!
Size Chart
| | | | | |
| --- | --- | --- | --- | --- |
|  Size- Chest (in) | Women's Tanks | Unisex Tanks | Collars | Long Sleeves |
| XS | 30-31 | - | - | - |
| S | 32-33 | 34-36 | 34-36 | 34-36 |
| M | 34-35 | 36-38 | 36-38 | 36-38 |
| L | 36-37 | 38-40 | 38-40 | 38-40 |
| XL | - | 40-43 | 40-43 | 40-43 |